Funny stories about the room of the jokers
By Marc Bangerter, Andreas Däuble, Mirco Lupo and Robin Walz
Harald
When we started unpacking our clothes on Monday, Andreas had the idea of putting his clothes into his pyjama suit. We all thought that this looked nice. Andreas often carried this puppy around. Marc thought it would be funny to name this person Harald. He was disassembled during the night, but on the next evening, Andreas had the idea of climbing inside Harald. That was very funny.
Truth or Duty
This is a game that you can play everywhere. You can play with as many people as you want. It works as follows: You ask someone "Truth or duty?", and if they go for "truth" you can ask them a question like "Do you like cheese", but if they pick "duty" you can say for example: "Go to the teacher and say 'I'm stupid'" – and then they must do that. So we played Truth or Duty on the school trip and it was fun. We just played everywhere in the house, at night in our room, in the seminar room, and in the billiard room. We did lots of funny and idiotic things. Maybe you're asking yourself now what we did but I shall not tell you.
Hiding in the bag
It was very exciting on the school trip because there were many chances to make stupid jokes. Mirco enjoyed hiding in his dive bag most. It was really big and he could hide inside completely. Mr. Binanzer took a photo of it.
Bed arrangement
In our room there was a loft bed behind the door. Marc was sleeping on top and Robin was sleeping underneath. There was a single bed behind the loft bed, in which Andreas slept. There was another bed next to Andi's bed and Mirco slept in it. Marc helped Robin to put clean sheets on the bed and then we did it the other way round. For Marc it was really hard because his bed was so high up. Mirco was always the first one who fell asleep, the next one was Robin, whereas Andi and Marc stayed awake longest.
Horror Night
By Martha Bold, Nora Braun, Diamond Jones and Sofia Kontokosta
Before the Horor Night began, the Horror Night group consisting of Nora, Martha, Diamond, Jaynee, Klaus, Oliver and Zihan practised their programme. We put on our scary make up and dressed up. The boys in our group decorated the room to create a scary atmosphere. We had trouble when we practised and were all nervous before we did our show.
After we were ready, everybody came into the seminar room. Martha started reading the story, which Jaynee had written for the class. Diamond acted out a psychopath who was screaming loudly. After that she went crazy and tried to "kill" everyone. When everyone left the room, Nora was lying on the floor with a fake knife in her head. She was grabbing people's feet.
Once everybody had put their shoes on, we went outside where we could see two supposedly dead bodies (Jaynee and Klaus). When we kept walking we could see Oliver, who was also acting as a corpse. Afterwards Jaynee went into the crowd to Zihan, who was in the group all the time, and she "killed" him with her fake knife. Then Diamond took her knife away and stabbed Jaynee. After all this bloodshed everyone ran inside and the show was over.
After the show we thought we'd been very bad. Everything had worked out quite well during the rehearsal, but after that, when we had to do it, a lot went wrong. At first everyone went outside, but shortly afterwards they came back to pull on their jackets. Then everything went well again. Despite this, we did it okay afterwards, and the class liked our show very much. It was very exciting to see the actors in their costumes and special make up.
Tree Climbing
By Daria Besedina, Jaynee Franz, Sophie Kunze and Leonie Kurz
On Wednesday we went tree climbing. Before we left the hostel we divided ourselves up into groups, which was pretty chaotic because the students had to do it themselves. During our walk to the climbing trees we saw a beautiful landscape around us. When we arrived, there were many interesting plants and we saw giant mushrooms! After that everyone took out their mats and looked for a place to sit and eat their lunch. Then Philipp explained the climbing gear to us and how to use it.
Many of us were afraid of heights. Even the teachers! Nevertheless, we all dared to try it. One group came up to about five meters and then had to climb down because one team member was too afraid. But that was not so bad because firstly you can't force people to do something they don't want to do and secondly: We are all one team!
Nevertheless, it was fun. Mr. Nikelski climbed up again with the rest of the team. But when a child got scared of heights at about 30 meters, this team had to go down for the last time. After that, this team broke up. One team member went swinging, another one started eating, but a few people still wanted to climb. They formed a new team and climbed up a tree that was chopped off above. They wanted to sit on top of it and almost made it. Unfortunately they got stuck two meters below the top of the tree.
Another team of guys went climbing with Mrs. Bohnet and Mr. Binanzer. They were also terrified of heights and did not want to go at first. However, after the students persuaded them, they climbed. After a while the two teachers wanted to go down again. Too late! They had agreed to take part! One boy started laughing, another said: "We only let them climb down if they give us all As!" Unfortunately, the boys couldn't do that because, as I said: We are all one team!
Half of the class was very tired and wanted to go back to the Albläufer hostel. Then we saw that two mushrooms had been uprooted by some boys. That wasn't very nice. The other half of the class wanted to stay because they weren't tired and wanted to go on climbing the trees. On the way back we were all very excited. When the other half of the class came home, we discussed our day in the seminar room.
We asked the class what they like most about the day. The categories were:
·         tree climbing
·         the walk back
·         the scenery
·         the way the groups were divided up
Three kids said they liked going back to the hostel most. One student thought the group division was best and one pupil preferred the scenery. As expected, 18 kids liked tree climbing most.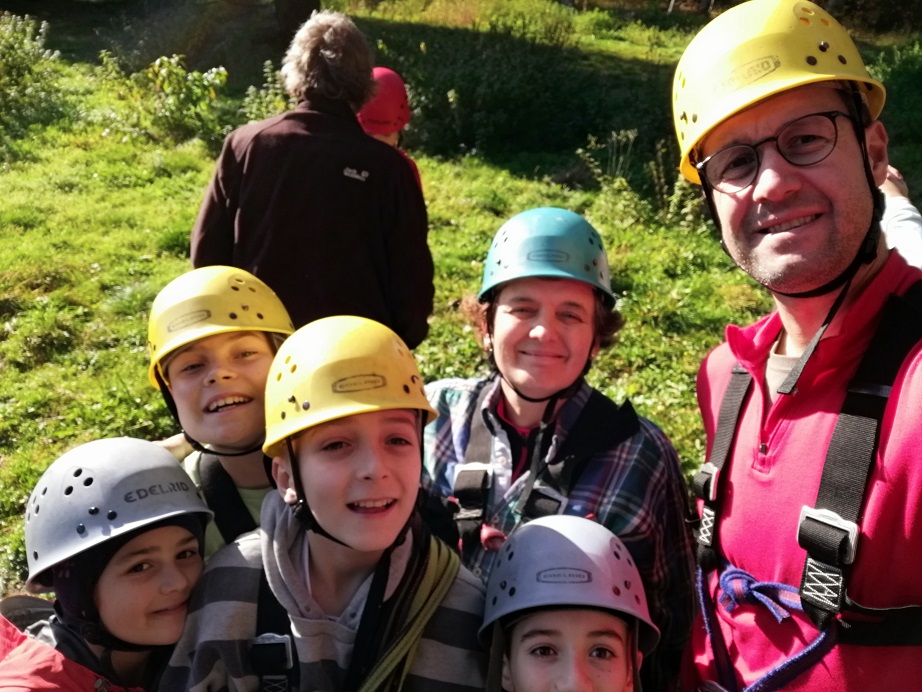 The Big Talent Show
By Mia Bijelic, Maren Brobeil, Mats Guse, Sophia Jost and Almin Mesic
Before the show could begin preparations had to be made. Before dinner Mats, Almin, Marlene, Mia, Sophia and Maren set up the chairs for the audience. After that they went to dinner. Then they came back and tested the sound of the jukebox. Finally the big moment came. We switched off the big light and turned on the little light. All the people came in. Mia was the bouncer and led the people in. Then the show started and the jury came in.
The jury were the most important people of the show evening because without them it wouldn't have been as much fun as it was. Almin, Mats, Emilie and Lorea were in the jury. All of them did a good job and also gave fair opinions. Let's talk first about Lorea. She was like a normal person. Lorea didn't talk too much. She only did her job. Almin was very funny, so that the audience often laughed. Emilie was like Lorea. But she was brave and pressed the golden buzzer for Leonie. Mats behaved like Almin.
The programme, which started at 8.30, featured a variety of performances:
Oliver, Zihan and Klaus showed football tricks
Mirco sang the song Astronaut
Robin showed card tricks
Diamond presented card tricks, too
Andreas introduced karate tricks
Jaynee danced to the song Sweet but psycho
Leonie sang the song Someone you love
The first performance with football tricks by Klaus, Zihan and Oliver wasn't very professional. They had no idea what to do. Diamond and Robin showed card tricks. They were very good. After that Mirco sang and it was also well done. When Jaynee danced to the song Sweet but psycho she convinced the jury, too. Andreas showed karate tricks, which was also fine. In the end Leonie sang the song Someone you love. The audience and the jury liked it very much.
After that the jury had to discuss who would be the winner. While they were discussing, the moderators Marlene and Sophia took a commercial break. Then they announced the winner: Leonie. But the other participants weren't sad because they got a certificate and a little gift. Leonie got a big bar of chocolate and a winner's certificate.
After that we wanted to have a disco but it was too late. Everyone went to his room and talked about the evening. At 10 pm Mr. Binanzer and Mrs Bohnet turned off the lights and everyone went to bed. The Talent Show was the best evening during our stay in Engstingen-Haid.
The Power Group Expedition
By Zihan Chen, Klaus Hörmann and Oliver Voigt
On Thursday morning the coach took us to a parking lot called Ruoffseck. From there we walked into the forest. The weather was fine, the sun was shining. After a short break in front of the Nebelhöhle we reached a very big cave. It was the Goldloch. Near the Goldloch there were slippery stones. The cave was really large. Inside everything was full of yellowish mud (clay). At the end of the cave there was a big stalactite. Klaus got stuck in the mud and was freed by Oliver.
After visiting the Goldloch we had to walk a long way. Then we came to a big gorge. We had to cross it. We were tired. The gorge was bigger than we thought. We took our backpacks off and put on the climbing gear. Then Philip showed us how to hook into the carabiner. Crossing the gorge was an adventure because some of us jumped into the gorge and suddenly we felt like flying, because we were hanging over the gorge. Some of us stretched out our arms and hung in the air. That was exciting. The gorge was really deep. When we reached the other side we had a break.
After that we walked again, to the big doline. It wasn't nice because the way was too long. We hadn't much energy left, but we climbed down the doline anyway. We had much fun. A doline is a cave that has collapsed. There were tree trunks with mushrooms on top. It was very damp. We could see two caves but were not allowed to go inside because of the danger of collapse. But we could look inside the cave. It was very dangerous. The doline was very big. It was at least 20 meters long and 20 meters wide. We sat on a big tree trunk. There were even spiders. It was nice. Then it was time to go back to the Albläufer hostel.
We went to the Aufberg parking lot, from where we walked home without our teachers. Klaus was unhappy. He had to walk with Mrs. Bohnet and Mr. Binanzer for a while because he had stepped on mushrooms. After about 15 kilometres we arrived at home. That was the Power Group Expedition.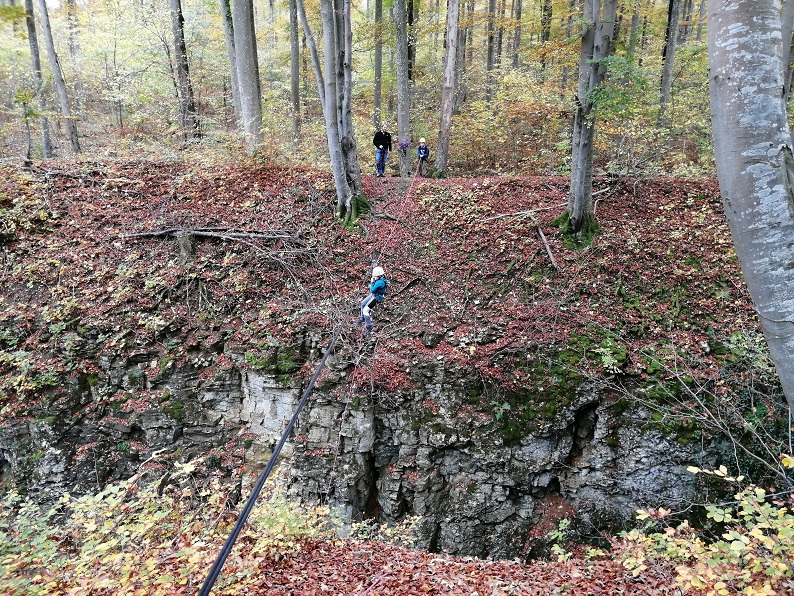 Packing and Cleaning
By Emilie Osipov, Marlene Ströbel and Lorea Urigüen
Friday morning was the last day of our class trip and straight after breakfast the girls of our room were assigned "girls' bathroom cleaning duty". The cleaning had to be done before we left to make our way home. We decided, among ourselves, who had to clean the floor, the showers, the toilet cabins and the sinks. We worked hard, but even so, we didn't enjoy it much because the bathrooms were quite grotty and filthy.
Another room of girls cleaned the upper hallway. It wasn't too dirty, so it didn't take too long to vacuum the corridors. It was another group's job to clean the dining area, which was a bit dirtier than the hallways. There were two rooms that had to be cleaned, which is why the dining area took a bit longer. The kitchen also had to be cleaned. Although it was a bit filthy, it didn't take the group too long to clean this room. The seminar room wasn't too much work. Only the chairs had to be positioned correctly. Another group was responsible for the garbage, which they had to empty.
For the bedrooms, all the roommates were liable. They vacuumed the rooms, cleaned the beds and packed their suitcases. All in all, cleaning and packing, also called PaPu, took about two and a half hours. After cleaning and packing, the whole class with teachers and instructors, met in the seminar room for one last assembly. We talked about the experiences which we had made during the week. We played a game that started with two people that had to get up from the floor without letting their hands touch the floor. It wasn't as easy as it looked, especially as more and more people joined. It was a bit messy, but in the end, we got it. It was really funny, as the whole class tried to get up from their sitting position.
Then we talked about our days in the Seminarhaus Albläufer. The instructors Stefan and Philip said goodbye to us. We all loved the time there. For our class, this trip to Engstingen was unforgettable!
Our last morning in Engstingen